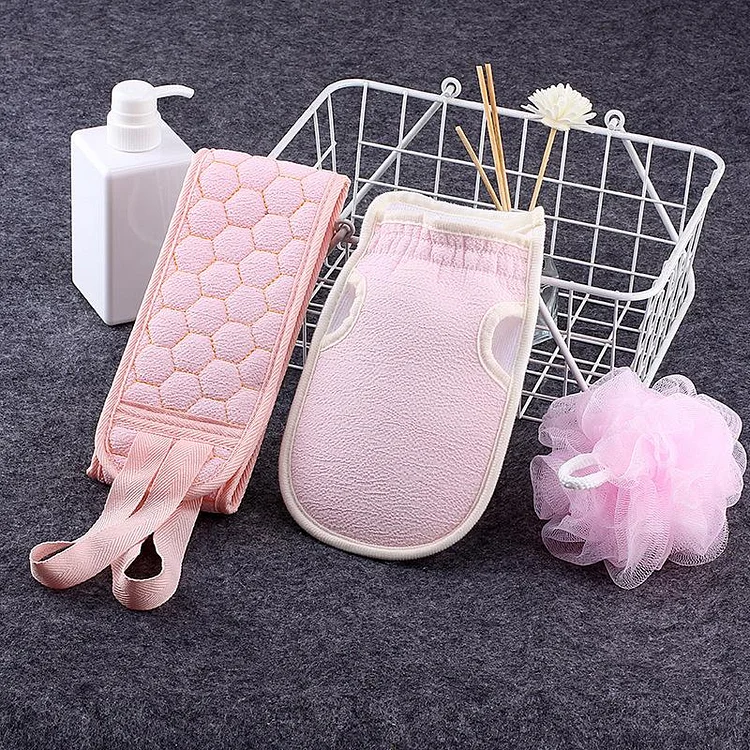 🛀This shower set is designed to get to the unreachable areas. It's also used for exfoliation, deep cleaning, and proper body circulation.
🧴Feel the difference for yourself!
Features:
Deep Clean and Skin Care

: compared with silicone body brushes and traditional body brushes, this body scrubbers for use in shower adopts a honeycomb texture design to provide stronger friction, easily exfoliates the body without hurting the skin.

Suitable Design

: Exfoliating back scrubber is a good designed on both sides so that you can flip it freely, stretch your arms. The textured sponge can perfectly fit the different curves of body, quickly absorbs water and foam, allows the delicate foam to quickly cover your body.Exfoliating gloves have two thumb holes design that can be used to scrub any part of your body without worrying about falling off.
Rejuvenate For Skin Care

: Scrubbing your skin with our exfoliating back scrubber and Loofah sponge pads to promote blood circulation, reduce stress and revitalize your body. Super-soft cotton materials great for dry rough skin and other skin problems.
Full Coverage For Whole body

: Our back scrubber and exfoliating loofah pads makes it easy to reach your entire body and protect the skin from harm. You can use your back scrubber to clean your back, handheld loofah pads perfect for cleaning the neck, shoulders and feet,Designed on both sides so that you can flip it freely without worrying about whether it is on the right side.

High Quality

: Perfect hemming and sewing craft makes it durable.Machine washable and not easily deformed. The strong handle in the back scrubber make you no worry about breaking.
Specifications:
Material:Sponge, cotton Blend
Color:Pink/Blue/Crimson/Yellow
Size:
Package includes:
1* Back Scrubber
1* Shower Gloves
1* Bath Sponge