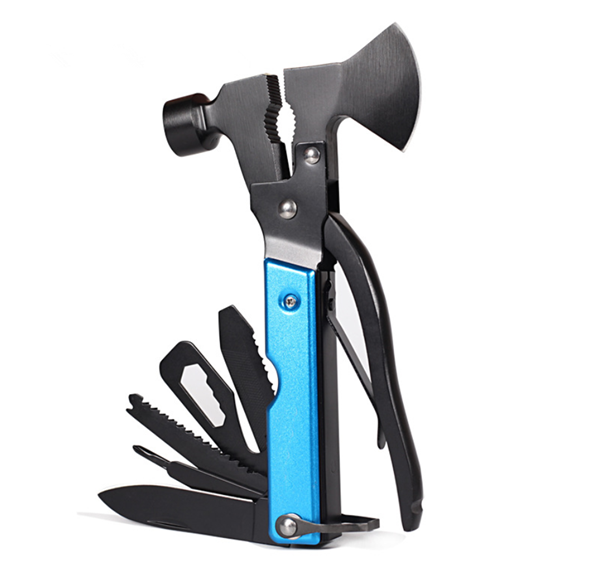 Thrilled to have this tool in the glovebox. Giving you a sense of security.
Compact Toolkit: Contains 14 different tools including Hammer, Axe, Pliers, Knife Blade, Saw, Assorted Hex Wrenches, Phillips screwdriver, Bottle Opener, File, Fish Descaler and more with a Safety Lock.
Decent Material: Full stainless steel with durable black oxidation for the main part, special green color oxidation for the handle. Strong enough to cut, pry, twist the screw, open fire hydrant, saw wood, etc.
Easy to Carry: 2020 UPGRADED SOLID NYLON POUCH THAT FULLY COVERS THE BLADE, holding the item tight in position, guarantee safe carrying and convenient to takeout for use.
A Fantastic Gift for Adventure Seekers: If you are looking for a special gift for your loved ones who like exploring, camping, hunting, hiking, fishing or backpacking, our Multitool Hatchet will be a perfect choice!
Strong, reliable, and easy to handle, the 14 in 1 Multitool Camping Hatchet is designed to tackle almost all jobs in almost every situation. Featuring an ergonomic design, durable stainless steel construction, and a secure locking system, this lightweight multi-tool integrates 14 convenient tools that will make a huge difference. The Hammer and Axe are the core of this tool. The Hammer can be used as an emergency escape tool too. The Axe and Saw can cut branches and wood for your campfire or snares, and even marshmallow roasting sticks. This all-in-one tool includes:
Axe
File
Saw
Hammer
Knife Blade
Wire Cutter
Regular Plier
Flat Jaw Plier
Fish Descaler
Bottle Opener
Assorted Wrenches
Philips Screwdriver
Slotted Screwdriver
Large Slotted Screwdriver
Heavy Duty Stainless Steel Multi-Tool
Stainless Steel construction, with a durable black oxide finish. Bright Red handle for Visibility. Strong enough to cut, saw, pry, drive screws, open cans and bottles, open faucets, and the pliers can do many jobs.
Emergency Hammer
In case of an emergency, you need a Self-defense emergency hammer, all car glass can be broken. We recommend keeping our 14-in-1 Multi-tool hatchet in the glove box of your car
Easy to Carry
Our lightweight multitool comes in a reinforced nylon sheath that secures the tool safety on your belt. The velcro flap allows fast and easy one-handed access.
Parameters
Closed Size: 6.9" x3.5"x 0.9" inch
Open Size: 9.9"x3.5"x 0.9" inch
Weight: 15.0 oz
Package List
1 x 14 in 1 Multitool Camping Gear
Tips:
To avoid personal injury, please use tools only for the intended purpose. Improper use can lead to personal injury. Always keep sharp objects away from children.
When unfolding blades or other sharp tools, do so pointed away from you, do not unfold a tool "half way" make sure it is either completely stored or out.
If using a sawing or cutting motion, always direct the cut away from yourself and keep your free hand away from the area.
Lock the handle securely with the tail ring to ensure a safer experience when using the Hammer and Axe.
Always make sure the Axe blade is well covered with the sheath when it's not in use.
When finished, make sure to fold tools back entirely into the handle. Do not leave sharp edges out. Store in the sheath to prevent damage to the tool.