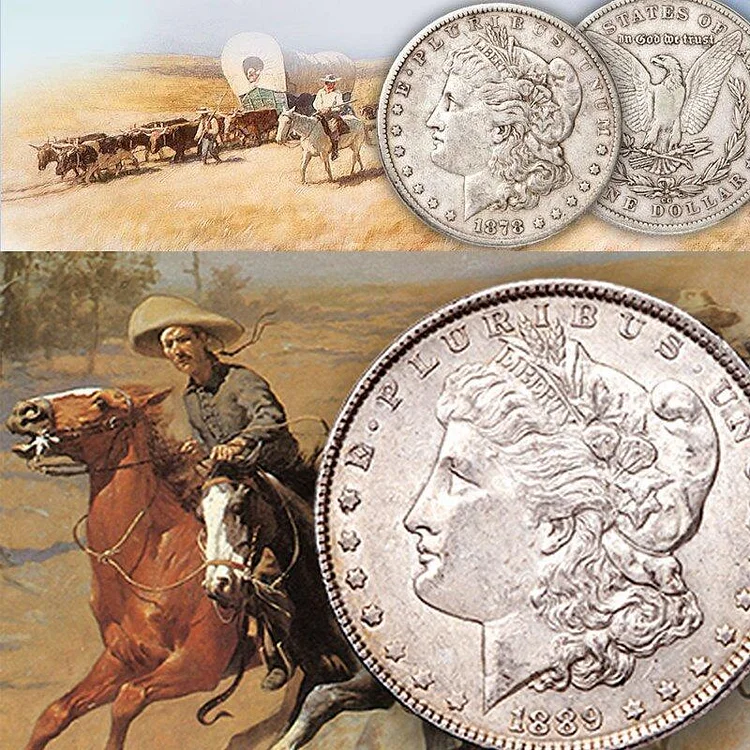 ✨
1878-1921 Morgan Dollar Sliver Coin
✨
When the Morgan Silver Dollar was first minted in 1878, it became a symbol of the Wild West and America's new place at the forefront of the world economy. Due to their high silver content, historical significance, mass hoarding and grand-scale silver meltdowns in the early 20th century, these precious coins are harder to find with every passing day and have become some of the most sought-after treasures in American coinage history!
Morgan Silver Dollars are an excellent way to own a piece of history, while concurrently investing in the physical precious metal silver. Morgan Silver Dollars are composed of 90% silver and 10% copper. They weigh 26.73 grams. This equates to approximately .7734 Troy ounces of silver and approximately .1 ounce of copper per coin.
The Morgan Silver Dollar is one of the most significant, historic American coins. Introduced in 1878, the Morgan Silver Dollar represented a return to silver dollar coining in the US after a brief hiatus. The design for the coin was created by a British man named George T. Morgan who had come to the US from the Royal Mint in Britain on a trial basis. Right now, (Uncirculated collectible coins)Morgan Silver Dollar Coins are available to purchase online.
Coin Highlights:
Arrives inside of a protective plastic slab courtesy of the NGC or PCGS!
Struck from 1878 to 1904 and 1921!
Contains .77344 Troy oz of actual silver content.
(Uncirculated collectible coins)
Bears a face value of $1 (USD) backed by the federal government.
Issued a Grade of Mint State 66 by the Professional Coin Grading Service or Numismatic Guaranty Corporation.
The obverse features the effigy of Liberty.
Reverse includes the American bald eagle.
The reverse of all Morgan Silver Dollar coins includes a design of the bald eagle also created by Morgan. The eagle is similar to the heraldic eagle, but lacks the shield commonly used in that design. Included in this design of the eagle is a bird with wings spread wide as it clutches the arrows of war and the olive branch of peace.
In this product listing, we guarantee you a Mint State 66 condition Morgan Silver Dollar.
Product Specifications
Mint Facility: U.S. Mint
Date:1878 to Present
Quality / Type:Silver dollar, Uncirculated
Purity:Silver
Weight:31.1035 grams
Diameter:1.287 inches (32.70 mm)