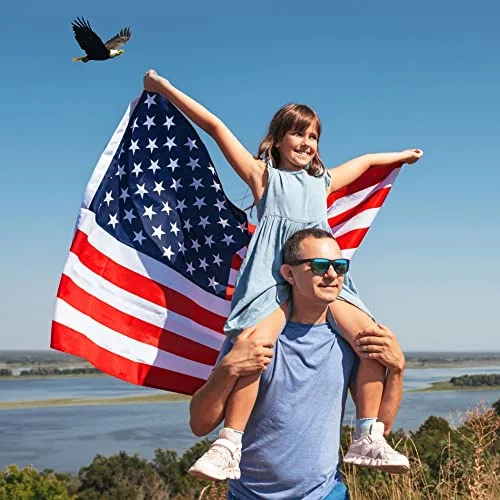 The Star-Spangled Banner: American Flag flies with glory and pride. Bring your home EcoNour American Flag that would fly great in your home like this glorious country in the face of the world.

Durable, Water & Fade Resistant: EcoNour American Flag is made up of heavyweight Nylon, which is rigid, water and fade-resistant. It dries quickly. This property of Nylon ensures that your flag flies gloriously amidst the bad weather. It comes in size of 35.43 inches in length and 59 inches in breadth.

Perfectly Stitched Stars: EcoNour American Flag comes with perfectly embroidered stars and not with printed ones. We use four rows of stitches and two rows of lock stitches onto the hem so that the flag lasts for a long time. The red and blue strips are double-stitched independently onto one another.

Bring on the American Spirit: You can tie the flag to your car proudly while hitting the road. American flags can be hung in your room, outside a window, in a corridor, etc.

Bold Stripes, Bright Stars, and Brave Hearts: There is no better all-American present to give to your friends, family, relatives, and kids than the American flag. You can be sure that the American flag wouldn't let you down.