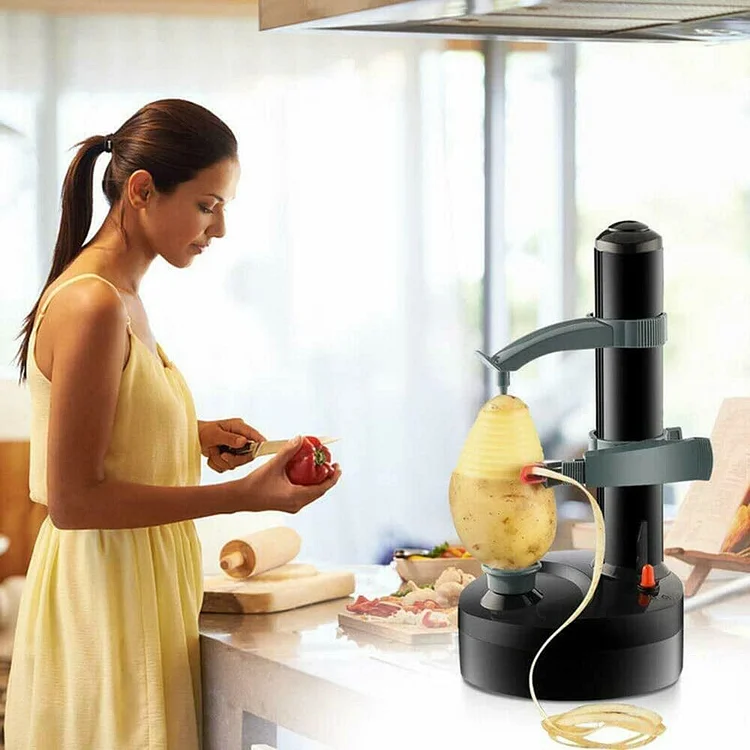 🍎 Electric Rotato Peeler🍎
The amazing new peeling machine that automatically peels away potato skins, fruits and other vegetables in just seconds! It's so sensitive it can even peel the skin off tomatoes! Now you can peel all vegetables, all fruits safely and without waste.
🍠Features:
🍐Is not just for potatoes!🥔 Try peeling these:Cucumbers, Zucchinis, Eggplant, Sweet potatoes, Lemons, Limes, Radishes, Kiwis, Peaches, Pears, Apples, Beets, Tomatoes, Turnips, Onions.
🍐No waste:Peeling is quick and easy with the Electric Rotato Peeler. It peels just the skin without wasting any of the nutritious part of the vegetable.
🍐It's quick:Plop on a potato, peel it and pare it in 10 seconds flat! The Electric Rotato Peeler instantly peels at the push of a button. It stops automatically when the peeling is over.
🍠Easy To Use:
🥕1. Center the food on the bottom food holder and press gently.
🥕2. Lower the upper food holder so that it grasps the food and holds it securely.
🥕3. Using the height adjustment level, raise the cutter arm so that is rests on top of food to be peeled.
🥕4. Turn ON the appliance by pressing on the red button. The skin peels off in one clean, continuous curl. The appliance will stop automatically when the cutter arm reaches the bottom.
🥕5. Lift upper food holder from food and raise it to the top of the support column.
🥕6. Grasp food and using a gentle back and forth rocking motion, remove food from bottom food holder pulling towards you.
🍠Information:
Type: Graters & Peelers
Material: Plastic (body) + Stainless steel (knife)
Powered By: Disposable Batteries
Disposable Batteries: Not Included
Package Included:
1 * Electric Peeling Machine
Size: 14 x29 cm