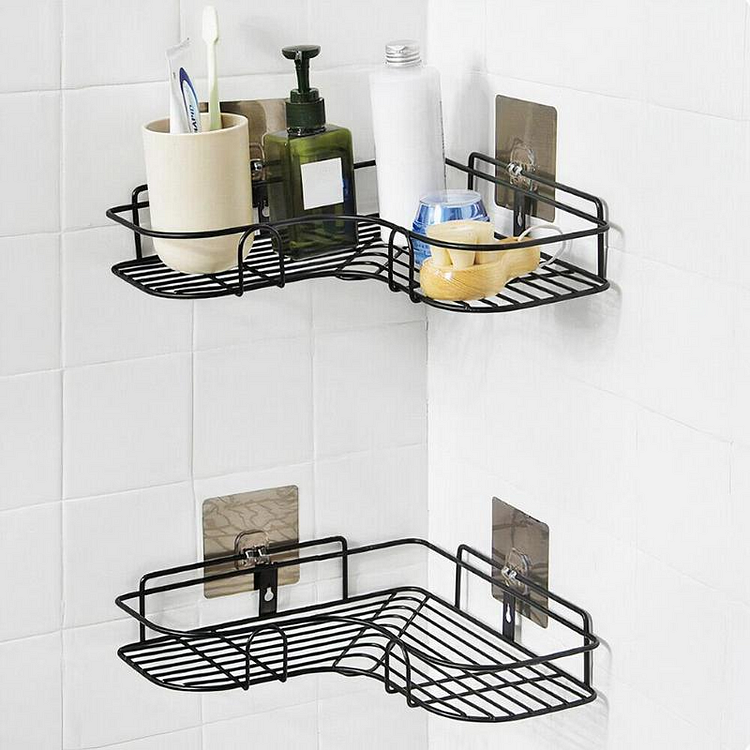 Keep your bathroom organized and clutter free without ever picking up a drill.

✅ WATER RESISTANT ADHESIVES: 
Stays up even with constant exposure to water & steam.

✅ 30 LBS LOAD BEARING: 
Store heavy bottles & allow pressing down to dispense.

✅ DURABLE COATING: 
Rust free, mildew free, easy to clean & maintain.

Guaranteed to store all your bottles and stay up or your money back, no questions asked.
The #1 Drill Free Shower Caddy With Over 50,000+ units sold worldwide
Waterproof, Easy to install, Heavy load bearing (30 lbs) and ready to use within minutes. These shower caddy are Guaranteed to stick and stay on or your money back.
Why Do I Need This?
We all know how much work and hassle it is to install a shower caddy using the traditional way.
All that drilling that leaves permanent holes on your beautiful tiles and not to mention the risk of breaking them.
Our drill free shower caddy can be installed on any smooth surface and is ready to be used within minutes.
No drill, no wall plug and no hassle.
Super Strong Adhesion That Stays Up
Nobody likes it when their shower caddy slips off the wall...
So, we've designed the adhesives to be water resistant, heavy duty and stays up forever until you've decided to remove it.
You can store large and heavy shampoo bottles while pressing down to dispense without worrying about the caddy falling off.
Easy To Install & Ready To Use In 10 Minutes
Find a smooth and flat surface in your bathroom and clean it with a dry cloth.
Mark the position of installation and paste the adhesives.
Remember to squeeze out the air bubbles and leave it for about 10 minutes before mounting the shower caddy.
Will This Work For My Bathroom?
Install on any smooth, flat and clean surface for maximum adhesion strength.
Please ensure that you have a 90 degree corner as It does not work on curved corners.
The Last Shower Caddy You'll Ever Need
Rust free, high strength and reusable. We've designed this shower caddy to last a long time.
Simply get adhesive replacements and you can use this shower caddy for years to come without needing to get new ones.
All Installation Tools Included
Every order comes with a shower caddy, 1 set of adhesives for the initial installation plus a backup set in case you need to move locations.
To remove, heat the adhesive with hair dryer or just peel the adhesive bit by bit until it comes off.
Frequently Asked Questions (FAQs)
Question:What does the Drill Free Hassle Free 2.0 means?
Answer: With an overwhelming demand and over 50000+ units sold, we've improved on our drill free shower caddy to give it double the adhesion strength, upgraded protection paint and overall better aesthetics. This gives the shower caddy the strength to hold onto surfaces that aren't perfectly smooth or flat.
Question: Will this fall off if exposed to water or steam for a long time?
Answer: No it will not fall off. Our adhesives are designed for bathroom use and are 100% waterproof.  Even when exposed to water for years, the adhesive will continue to stay up with losing adhesion strength. Just ensure that you've installed the adhesives on a smooth clean surface for maximum durability.
Question: How long does shipping takes? Do you delivery worldwide?
Answer: We deliver worldwide and you can expect your order to arrive within 1-2 weeks of ordering.
Question: Is it easy to remove the adhesive? Will it cause damage to the wall?
Answer: To remove, heat it with a hair dryer and it will come off cleanly without leaving behind any residue.
Question: Do i need to buy more adhesive pads?
Answer:We include 4 adhesive pads for every order of the shower caddy but you can get extras in case you are moving. 2 adhesive is enough for 1 shower caddy installation
Question: How do you handle your products?
Answer: We conduct through inspection for quality assurance on all our products, bubble wrap and packaged properly before sending out. So can be assured that you will receive the product in good condition, otherwise we will do a reshipment or refund.
Question: What if the product does not work out for me?
Answer:Drop us an email at [email protected] and we will assist you/offer a refund or send you other models.
Hear What Others Are Saying
⭐⭐⭐⭐⭐ Rated 4.8/5 With Over 10000+ Happy Customers & Counting
I've had bathroom shelves with suction cups that never stay and end up falling constantly which is annoying. These shower caddies were a gamer changer! They were easy to install, waterproof and able to hold lots of shampoo bottles. I've had mine for 3 months now and is still holding up well. I would highly recommend this to anybody looking to change out their shower caddy or is moving into a new home.
- Jannie W
Try Our Shower Caddy Completely Risk Free
We have an iron-clad risk-free 30-day guarantee that begins only when you receive the product!
If you don't have a positive experience for any reason, we will do whatever it takes to make sure you are 100% satisfied with your purchase.
Email us at  [email protected]  for instant support or drop us a text message.