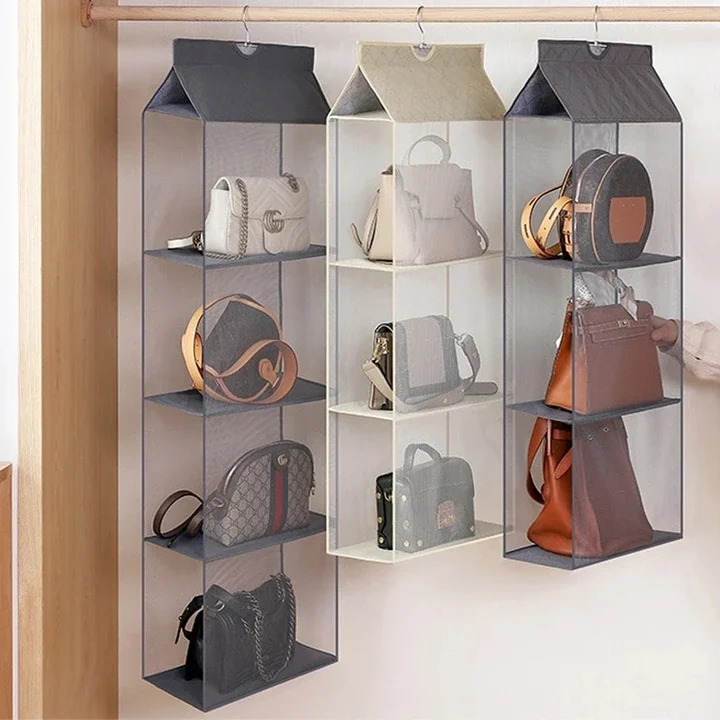 Eco Bag Hanger:
The Eco Bag Hanger is the WOW factor you need in your room whether showing off your collection to guests or admiring your own hard earned pieces the Eco Bag Hanger will showcase them elegantly but also store them away practically.
The Eco Bag Hanger is available in Gray, Black or Beige each coming with 4 size variants to immerse into any space you so desire
Recommended by Professional Organizers around the Globe and Inspired by Marie Kondo, the KonMari method of decluttering
Convenient:
The Eco Bag Hanger is easy to foldand is easy transportable with so many uses!
Ideal for:
Handbag Storage and any other Wardrobe Showcase pieces
Reduce Stress & Anxiety:
Studies show that Human brains like uniformity and order. Constant  reminders of clutter drain our cognitive energy, reducing our ability to focus. Organisation reduces stress, Improves our Mood, promotes healthy sleep and improves productivity. Wow! 
Experience the bliss of a perfectly organised Wardrobe, Closet or Laundry and say Goodbye to stress causing clutter
A Unique yet Cool Gift:
Thinking of the perfect Christmas present for a friend or family member? Why not give the satisfying gift of Organisation. Fold it up and give them a surprise they didnt know they wanted (and Needed!) all the while supporting the environment
Become the KonMari of your own life Today!
Easy to Clean & Install:
Wipe it with a damp cloth and allow to air dry. DO NOT Soak