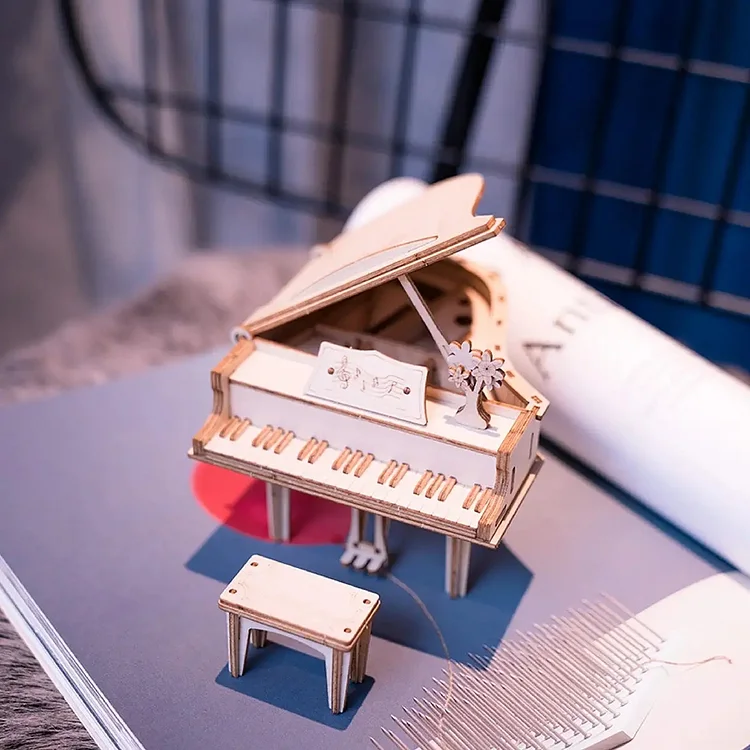 Grand Piano Modern 3D Wooden Puzzle
Grand Piano TG402 is an easy DIY wooden puzzle for free time. Great 3D Wooden Puzzle &Toy for both adults and kids. It is the best Educational Toys and holidays gift (such as Christmas, Birthday )Gift for Boys &Girls, Teens & Adults, Lovely Home Decoration.
Difficulty Level: ★★☆☆☆
Laser Cutting
Assembled Size: 125*108*132 mm
Wood Pieces: 74 pcs
【LASER CUT,SMOOTH WOOD】 Wooden Material, Non-toxic,laser cut with high quality control, safe and smooth feel for kids.This puzzle comes with pre-cut wood boards no glue required.Suitable for small hands and easy to assemble.
【CLEAR ENGLISH INSTRUCTION】You wont have any trouble to assemble this model kits because of pre-cut wooden board, easy to pop the individual pieces out of the sheets. With the detailed English instruction, easy to understand and follow.
【EDUCATIONAL PUZZLE TOYS】This Animal Puzzle Toys Series are educational for children.Suitable for kids ages 8 +, this 3D craft kit toy creating an animal kingdom through the process of DIY.Good for their hand-made ability,Problem-solving,eye-hand cooperation,reading and thinking.Make plenty of fun when they assemble the puzzle according to the English Instruction piece by piece.
【CUTE GIFTS FOR BOYS AND GIRLS】Every kids like to play animal toys especially they could DIY this puzzle model . Great educational birthday and Christmas gifts for your kids, niece, nephew, grandson and granddaughter. They will be thrilled when they complete this animal model. It will be great deco for desk, car and room.
FUN AND EDUCATIONAL
Teens and adults aged 14 and up will enjoy building their own 3d puzzle set. Creating the wooden puzzle model kit is challenging and may take a few hours, depending on your pace and patience. These building sets will draw out and propel your child's ability to plan and build their own structure like a true architect or engineer.
EXQUISITE DESIGN
The wooden craft kit is not only functional and fun, but it is designed beautifully, too! Great choice as Thanksgiving Day Gift, Birthday Gift, Christmas Gift, Father's Day Gift, Back to School Gift, Gift for Boys and Girls, for friends and family members. The mechanical wooden puzzle has decorative designs that look captivating in the finished product. Display a truly unique wooden piece on your desk, shelf, or nightstand.
ENGLISH INSTRUCTION
With laser-cut technology, the pre-cut wooden board will be easy to pop the individual pieces out of the sheets. Utilizing safe and environmentally friendly wood from all-natural trees without any added toxins, even children can safely play with sets. Also, the educational toy comes packaged with clear, simple, and very detailed English instruction as well as illustrations. Follow the steps shown in the instructions and you will build the wooden art craft set quickly and correctly.
FAMILY TIME
Thrill the entire family and provide fun and entertainment by piecing this DIY wooden puzzle together. Building this 3-D Puzzle Kit can be worthy for the family to complete together. The complexity of this kit will bring families together for hours to create something truly unique to display in their home. Believe us, this is an unforgettable family time, you will be surprised by the child's hands-on talent. This model is also a perfect idea for a handyman or anyone who enjoys woodworking.
It integrates the beauty of machinery and scientific exploration, which advocates science and technology, creativity, and freedom.
EDUCATIONAL DIY 3D PUZZLE
Solving 3d puzzles flexes mental muscles and provides benefits for both children and adults

Also provides an effective way to develop motor skills,hand-eye coordination, and build a better sense of structures.
PERFECT DECORATION
You will certainly be proud of displaying your creation to all of your friends and family!D

DIY 3D wooden puzzles will be attractive decorations when you put them in the bookcase, display cabinets, etc.
EXQUISITE WORKMANSHIP
Wood is from all-natural trees, even children can safely play with sets without harmful chemicals.

Build your own structure like a true architect or engineer with exquisite workmanship.
The most fashionable and detailed DIY Miniature houses in the world. Handmade all the parts together by yourself, enjoy the pleasure of creating your dream house. With all kinds of mini houses and apartment, you can find what you love!
Exquisite Mini House and Eco-Friendly Materials
Our DIY dollhouse is all around made, utilizing a smaller than normal size of about 1:24.
Dollhouse Light
Decorate your room, tables, and grandstands in the wake of completing the unit. It's more excellent when turning on the light.
Educational Toys
Stress reliever for grown-ups. Light creative mind and a feeling of marvel in young men and young ladies. Motivate open-finished reasoning, Encourage kids hand to eye coordination, fixation, and a comprehension of spatial connections and to see additional opportunities. Administrator family game, particularly fit grown-ups and kids to play it together.
Safe, Non-Toxic, Highest Quality Material
Suitable for a very long time and upwards.
Creative Decoration and Gift
Once the model is finished, you will feel a feeling of achievement. It will get loads of consideration and looks incredible in a work area. Different children, colleagues, companions, or family can't resist the urge to play with it.
Matters Needing Attention
The material of the Robotime dollhouse is accurate, so don't waste it at every step and use it according to the instructions, otherwise, it will result in the shortage of the final parts. Don't be discouraged if something in the kit is broken, use your imagination to fix it.If you find product problems, please contact our seller at once, we will help you to solve problems. Thank you. (Battery is not included)
*Due to customs policy, glue, battery, or pigment may not be included in the package.