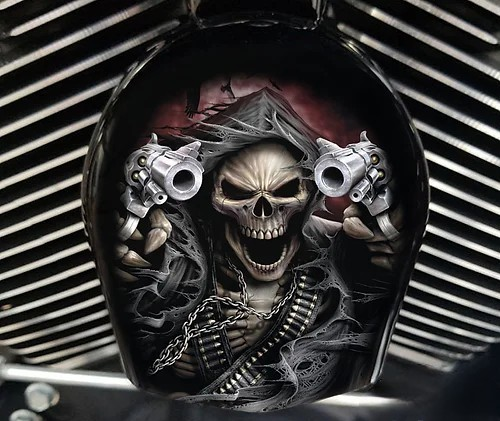 Replace your stock factory cowbell or waterfall style horn with this custom handmade piece, utilizing your existing hardware. The design is hardcoated onto the OEM horn cover, with the design fading to black on the sides to compliment the engine.


All of our parts feature high definition graphics which are forever locked onto the aluminum cover. The quality of our graphics are far superior to airbrushing, hydrographic printing and vinyl wraps. The Hard Coated finish on the cover is virtually indestructible and will not wear or chip off, it is also Impervious to heat and the elements. All products feature a one year warranty.

* All parts are made to order, production time is noted in this listing


Disclaimer:
All products are manufactured using a multiple color hard coat injection process. Unlike automotive paint, which is mixed to a specific color or paint code, our parts feature multiple layers of up to 12 different colors in each unique design. We cannot guarantee color matching to motorcycle paint as color accuracy isn't guaranteed. Due to the coloring process, in certain bright lighting conditions a metamerism may occur which may make some colors appear an altered shade or more vibrant than usual.

𝘞𝘦 𝘢𝘳𝘦 𝘯𝘰𝘵 𝘢𝘧𝘧𝘪𝘭𝘪𝘢𝘵𝘦𝘥, 𝘢𝘴𝘴𝘰𝘤𝘪𝘢𝘵𝘦𝘥, 𝘢𝘶𝘵𝘩𝘰𝘳𝘪𝘻𝘦𝘥, 𝘦𝘯𝘥𝘰𝘳𝘴𝘦𝘥 𝘣𝘺, 𝘰𝘳 𝘪𝘯 𝘢𝘯𝘺 𝘸𝘢𝘺 𝘰𝘧𝘧𝘪𝘤𝘪𝘢𝘭𝘭𝘺 𝘤𝘰𝘯𝘯𝘦𝘤𝘵𝘦𝘥 𝘸𝘪𝘵𝘩 𝘏𝘢𝘳𝘭𝘦𝘺-𝘋𝘢𝘷𝘪𝘥𝘴𝘰𝘯 𝘔𝘰𝘵𝘰𝘳 𝘊𝘰𝘮𝘱𝘢𝘯𝘺, 𝘐𝘯𝘤.
HOW TO TRACK YOUR ORDER?
You will automatically receive a shipping confirmation email once your order ships that contain your tracking number, then click the tracking number(E.G. REDC1234567) you will be able to track your order in real time . If you haven't received tracking number.Please check your spam or contact us with email:[email protected]
You also can track your order by Third-party integrated logistics tracking website


24H Customer Service
We have a team of live reps ready to help any questions you have within a 24-hour time frame, 7 days a week.We would love to here from you,contact us with Email:[email protected]