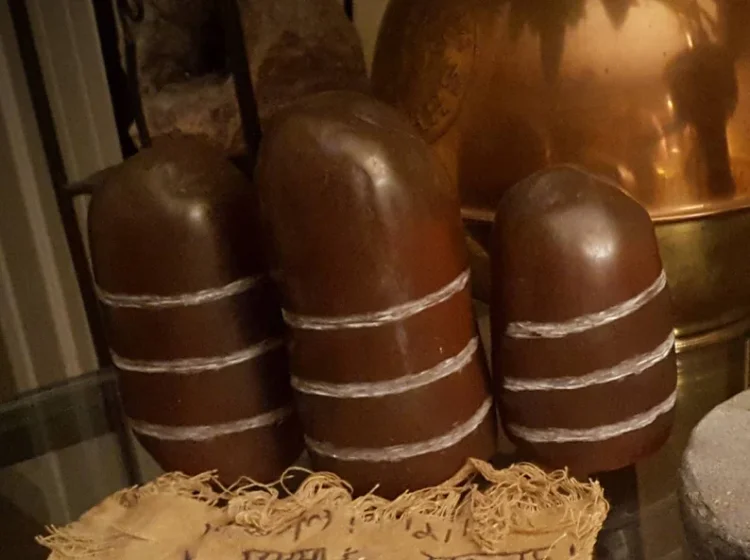 💖You have chosen wisely...The ultimate gift for Indy fans!
According to legend, Five Stones were given to Sankara by the Hindu god Shiva on Mount Kalisa, along with the message that he should go forth and battle evil with them. The Stones contained Diamonds Inside, which would Glow when the Stones were brought together. The last of the five had ended up in a small village called Mayapore located in northern India. It was found in a river and revered by the people of Mayapore because it brought happiness and prosperity to the village. They called it Sivalinga or Shivalinga, and it served as the town's lingam. It had three notches on the side, representing the Three Levels of the Universe according to their beliefs. Sivalinga was taken from Mayapore by members of the Evil Thuggee Cult, under the command of Mola Ram. Without the Stone, life in Mayapore withered and died. In 1935, Indiana Jones ended up at the village, and was sent to recover the Stone at the behest of Mayapore's shaman, Marhan. The Thuggee Priest Mola Ram had brought his two and Sivalinga to Pankot, and set them in a temple dedicated to the Goddess Kali, believing that with the Power of the Stones, Kali Ma would Rule The World. The Three Stones were stolen by Indiana Jones and returned to Marhan in Mayapore.
This Collectable is part of our Special "Indiana Jones Collection."  This item is a Very Detailed Real Prop Replica of the Famous Sankara Stone as it was seen in the hit film: "Indiana Jones and the Temple of Doom (1984)" .
These Glowing Sankara Stones
Are the perfect addition to any Indyfans collection.
Made of dark amber resin they have the look of a real stone, but once you flip the switch on the bottom they glow just like the movie. Each stone is powered by one CR2032 battery (included) with 100-hour battery life if left on.
The Sankara Stone is Solid Resin and Very Durable. It measures; 6 inches tall x 3.5 inches in diameter. The Sankara Stone has Three indented lines on the Stone. It is Brown and the Indented lines are White, just as it was seen in Film.