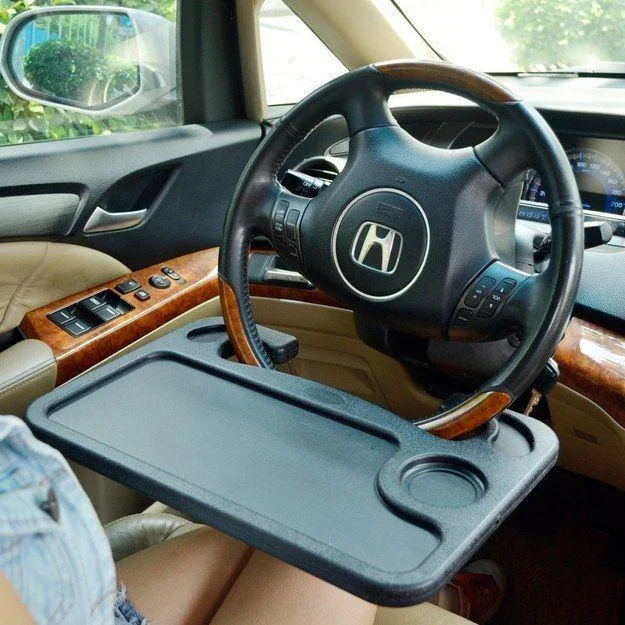 Sometimes, it can feel like you spend most of your day in your car, either driving around or stuck in traffic. Well, it is estimated that the average person spends around 293 hours in their car, each year.
That means, instead of wasting time in your car waiting for someone, you want to get things done.
Whether this is working on your laptop or grabbing some lunch, you are going to need the right equipment to do this comfortably.
Thankfully, we've got just the thing for you!
Why do you need Steering Wheel Desk?
Have you thought of all the times you're working with your computer on your lap for hours, and eating your breakfast, lunch and many dinners uncomfortably in your car seat? Thought of how awesome it might be to have a little portable desk to work on inside your car...
Now, this Magic Cardesk is the most cost effective way to increase your in-vehicle comfort while working or eating on the road.
Easy to use that it only takes a moment to slip it onto the steering wheel of your parked vehicle. 
This desk is 2-sided. One side provides stable work surface for mobile working with your laptop or tablet computer, and the other side is a place where you can comfortably eat a meal.
It is thick but lightweight and portable, tough enough to take the weight of your laptop. It can easily be stored out of view under a seat if needed.
 
This is perfect and very helpful for workers whose majority of their day, they're just in their car travelling for work. Like...
For Home Health Nurses travelling to patients' houses every time and need to do patients' documentation between home health visits.
For Police / Investigators / Law Enforcers typing or writing incident reports in their patrol cars.
For Utility Workers who need to be on-the-go for their next job or emergency, and filling out work orders.
For Sales Rep, Entrepreneurs, Managers that has a lot of appointments and important documents to sign with different business partners and clients.
For Students who make their car feels like a library doing their home works or activities.
Aside from that, you can put your tablet or phone on the desk and watch movies or videos.  You can rest your book or magazines on the table as you read. 
So, you'll basically never have a reason to leave your car again!
⚠️ BUT, before anyone starts freaking out, this product is only recommended to use when you're parked. 
Simply remove the desk and stow it in a door compartment, seat-back pocket, or underneath your seat before hitting the road for your next appointment or delivery.
⚠️ WARNING: DO NOT USE DESK ATTACHED TO THE  MAGIC CARDESK WHEN DRIVING YOUR VEHICLE.
Note: It is recommended to remove steering wheel covers before using the desk. The desk may not fit the steering wheel due to the wider size of the steering wheel cover.
Specification:
Material(s): ABS Plastic
Dimension: 16.5 x 11 x 1 inches
Max. Weight Bearing: 11.02 lbs (5 kg)
Steering Wheel Compatibility: 14 ½ inches to 17 ½ inches
Package Inclusion:
1 x Magic Cardesk
Working or eating from your car is rarely ideal. Still, for many of us, it's a necessary part of the working day.
Whether you're a businessperson regularly on the road between clients, or a ride-share driver who wants a more comfortable downtime between stops, there is no denying that this Steering Wheel Desk will be incredibly useful for you.