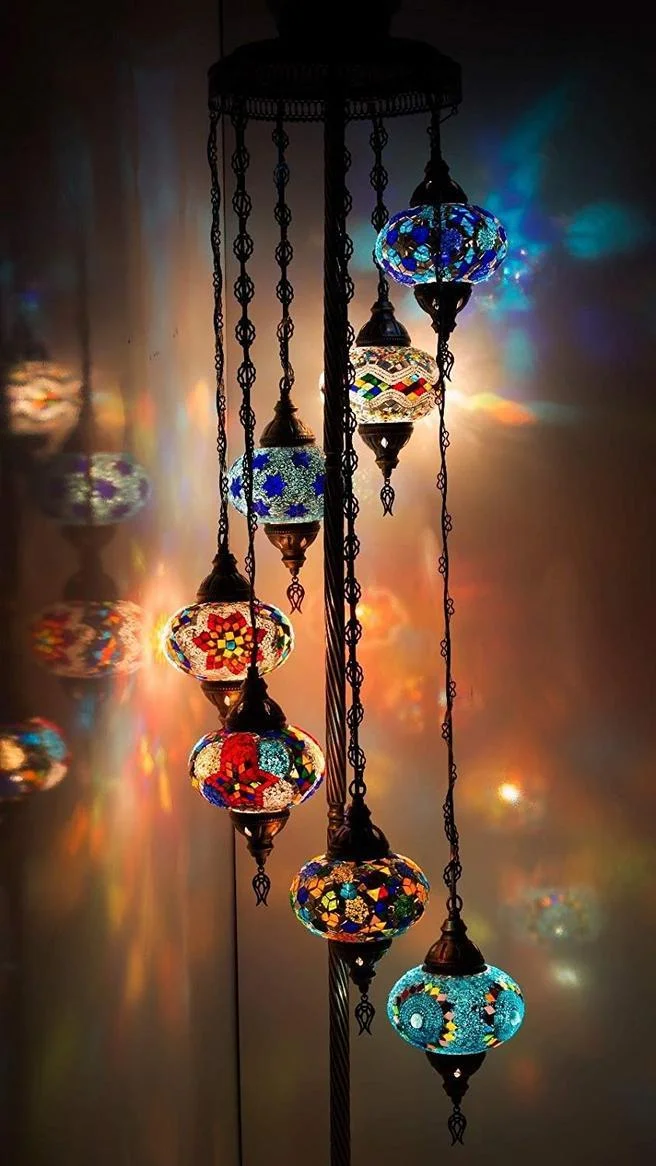 Since ancient times, mosaics have mesmerized with their dazzling colors and distinctive aesthetic. Often made of meticulously arranged colored glass tiles, mosaics offer an eye-catching approach to art and decoration.
Mosaics have been a popular art form in several cultures around the world. The earliest known mosaics were found in a Mesopotamian temple dating back to the 3rd millennium BC. Made up of ivory, seashells, and stones, these decorative, abstract pieces laid the groundwork for mosaics made thousands of years later in Ancient Greece and the Roman Empire.
Our Lamps are handmade in Istanbul, Turkey. Our artisans are mostly housewives. We buy the naked globes & glass from suppliers and make them into beautiful mosaic lamps. Big glass pieces are hand cut 1 by 1 and made into small glass mosaic pieces. Each mosaic lamp is made by putting/gluing each mosaic piece 1 by 1 onto the globes. We use glass mosaic pieces and glass beads to cover the globes. Each pieces is unique, each piece has its own soul and has a story to tell. A stunning conversation piece.
Antique Brass Color Metal Body. On/Off Switch.
Perfect addition to any home, offices, zen room, weddings, restaurants, cafe etc.
A PERFECT GIFT!
North American Plug. E12 US Socket.
Needs E12 Bulbs up to 25W. (Not Included). - You do NOT need an expert installation!
FEATURES:
Antique Brass Color Metal Body
11 Globe Lamp Height: Approx 7FT Globe Diameter 5 inch
10 Globe Lamp Height: Approx 55" Globe Diameter 5 inch
9 Globe Lamp Height : Approx 70". Globe Diameter: 5 inch
7 Globe Lamp Height : Approx 55". Globe Diameter : 5 inch
3 Globe Lamp Height : Approx 29.5". Globe Diameter : 7 inch
5 Globe Lamp Height : Approx 47

"

. Globe Diameter : 7 inch
On/Off Switch - no dimmer
WE PROMISE YOU WON'T BE DISAPPOINTED WITH THIS PURCHASE! WE STAND BY OUR PRODUCT AND TAKE FULL RESPONSIBILITY IF ANYTHING ARRIVES MISSING OR BROKEN DURING DELIVERY AND SEND REPLACEMENTS WITHIN A WEEK.
OUR LAMPS ARE MADE OF QUALITY MATERIAL!
CUSTOMER SATISFACTION IS GUARANTEED WITH OUR LAMPS!
FAST EXPEDITED SHIPPING - 4-5 DAYS DELIVERY.
Please get in touch with us personally if you have any questions: Email at support@wishicious.com or call (800) 705-8247
Become another happy customer now!
Please Note: Customers outside US may have to pay duties issued by customs department.