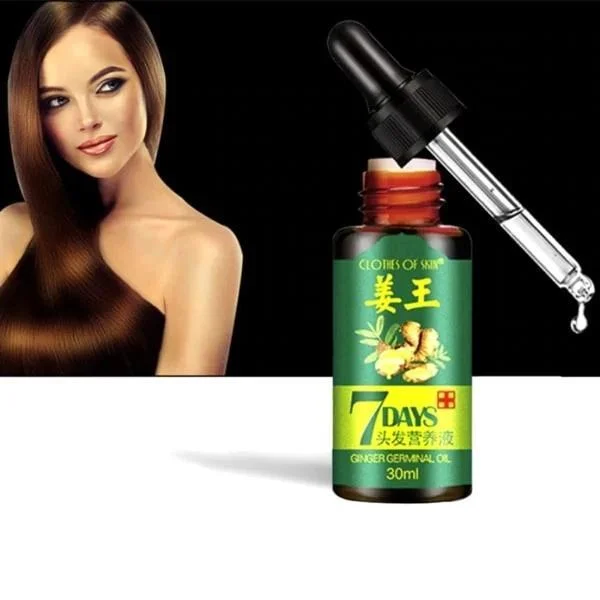 "Love it! I have worked this into my daily routine and I am already seeing a tremendous result after 1 week!"
- Kristine L. Imperial Ginger™ Customer
Royal Ginger™ is a 100% Natural Hair Growth Oil made with aged-ginger that creates a proven formula to the most effective hair growth result in the industry. It stimulates hair growth directly at its root that helps to speed up hair growth up to 40% faster! As a therapeutic herb, ginger also helps in repairing damaged hair follicles which strengthen and improve current hair condition. Start seeing a fuller and thicker hair within the next 7-14 days and experience a more confident version of yourself!

Royal Ginger Awesome Benefits:
✔️ Improves blood flow through the scalp that helps with hair growth
✔️ Accelerate hair growth and thickening by 40%. That's twice the growth in half the time
✔️ Revive scalp and follicles to prevent further thinning and promote growth
✔️ Powerful and immediate repair of current damaged hair
✔️ Made using 100% natural ingredient to prevent any irritation
✔️ Cost-efficient - never overspend on going to a dermatologist again
✔️  Volume: 30ml
How To Use:
Step 1: Drip 3 drops of ginger oil on the desired hair growth area
Step 2: Use your fingers to gently massage the scalp area for 2 minutes to aid the absorption of the oil into the root
Step 3: Perform the routine twice daily for best results
Statistics have revealed that hair loss is the number 1 confidence crusher among men and women. It adds years to your appearance which causes lower self-esteem especially among friends and co-worker.
Witness a visible transformation from thin or balding to a full rich hair within 2 weeks with Royal Ginger™! This 5 minutes routine each day will be a lifesaver and secret to the younger version of yourself that nobody will ever find out. Regain the confidence you deserve comfortably from your home with Imperial Ginger™!
All orders are delivered directly from our local warehouse in the United States, United Kingdom, Canada, and Australia. Estimated delivery time: 5-7 working days.