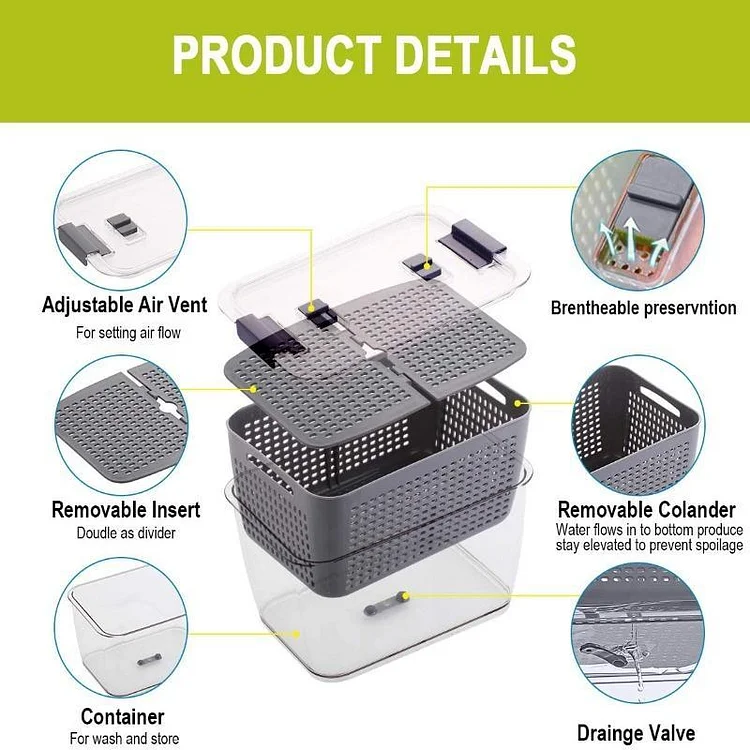 Keeping the fruits and veggies fresh has never been easier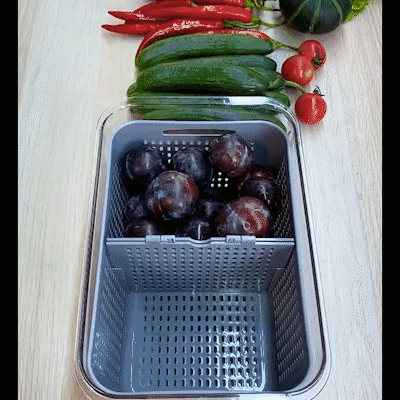 Produce tends to last longer when properly stored, that's why we've designed a container that keeps it fresh and sorted while talking minimal space in the fridge.
Contcol™ is specifically made for fruits and veggies, it keeps a constant airflow inside to keep them tasty. Using the custom partition, you can pair up different foods inside.
Anytime something needs cleaning put it in Contcol™ and dunk it into the water. Our innovative container solves all your kitchen needs and more.

Features
FOOD Grade Material

 

- Made of high-quality food-grade safety PET material which can effectively resist stains and odors, 100% BPA-free. Fit for refrigerator storage, also for healthy picnic party.⚠️NOTE:

 

Cannot be used in dishwasher.
Fresh Produce Storage Containers

 

- our container designed with adjustable vents which can regulate the flow of air in and out, control the humidity inside, help prevent spoilage, keep fruits and vegetables fresh for up to two weeks for maximum freshness.
Partitioned Design

 

- These produce storage container all come with adjustable fold-able partitions for classified storage; Can store most types of fruits and vegetables such as lettuce, cabbage, strawberry, blueberry and etc, space saving, clean and not odor.
Keep Your Fridge Organized

 

- Our refrigerator plastic box with lids are made to provide you with a convenient, hygienic and cost-friendly way to add more structure to the way you store your vegetables and groceries while helping reduce the clutter to organize all your fridge essentials the easy way
3 Pack Meet Various Sizes

 

- 1 large container (4.5 liters), 1 medium container (1.7 liters), 1 small container (0.45 liters). Three-piece draining crisper with strainers that can meet your daily food storage needs, suitable for storing fruits, vegetables, seafood, meat, tableware, etc.
Professional Multifunctional Design

 

- Each part is made with ingenuity and has different functions to help you clean, drain, organize and store vegetables and fruits. This is the perfect refrigerator organizer: to help you keep food fresh and keep your refrigerator tidy.
Food Storage & Organization Sets:
Save money, food, and trips to the grocery store, by keeping produce fresher longer, helps prevent spoiled and wasted produce, which means more food, more savings, and fewer trips to the grocery store.
Our fruit storage containers are

 

BPA-free. The container is made of high quality acrylic resin food grade material and has no chemical harmful substances, to be safe for your health.
Keep Refrigerator Neat and Clean:
Food storage container set can be used in refrigerator/ freezer,transparent design allows you to easily see the food inside, better organize and classify fruits and vegetables to keep your refrigerator odorless, clean and organized.
Specifications:
Color

 

- White, Brown, Grey
Material

 

- PET+PP+ABS
Size

 

-

 

L:4.5L ,

 

M:1.7L ,

 

S:0.45L
Weight:

 

L

: 940g , 

M

: 330g , 

S

: 220g

Temperature resistance:

 

-20~120℃
Package Content:
SET=

 1*S+1*M+1*L

  *Preservation Box
Shipping Price: