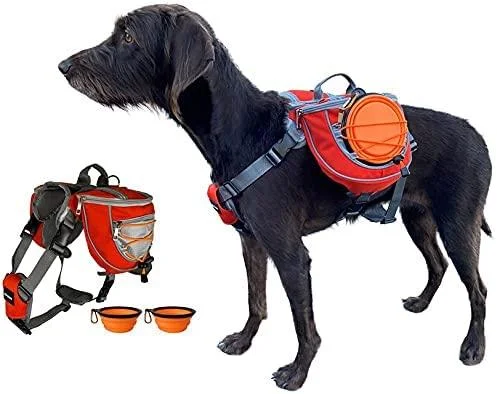 ✔️READY FOR ADVENTURE: Keep your dog's essentials such as food, first-aid, leashes, treats, and more in the pockets and in the external gear holder.

✔️QUALITY CONSTRUCTION: Made of Oxford nylon fabric, cool mesh fabric underlay, metal D-ring, strong plastic buckles, metal zipper, and hi-vis reflective webbing for safety in low light conditions.

✔️COMFORTABLE: Balanced, light-weight design. 5 points of adjustment to ensure proper fit and comfort.

✔️PLENTY OF STORAGE: 2 large zippered pockets, 2 small zippered pockets, and 2 elastic string gear holders.
Who better to hit the trail with than Man's best friend! Make sure your dog is well prepared for adventure. The Zor-DOG Saddlebag Back Pack & Harness Combo for Dogs ensures that your canine companion can comfortably carry his or her own essential items such as food, treats, snacks, first-aid kits, leashes, collars, and more! These pooch panniers have two main zippered pockets and two small zippered pockets as well as an elastic string gear holder on each side. It comes with two collapsible bowls so that your dog always has a place to eat and drink.
FEATURES
2-IN-1 Design
The 2-in-1 pack/harness design is lightweight and comfortable for long journeys on the trail. The balanced design and moderate sized pouches ensure that you do not overload your dog. This pack is a great choice for day hikes or overnight trips.
SAFETY
Constructed of bright colors and Hi-visibility components for safety in low-light conditions. Top handle and D-ring allow you to handle and control your dog when needed.
BEST USE
Ideal for dog hiking, camping, long trail walks, backpacking trips, traveling or everyday use.
PROPER FIT
To find which pack will best fit your dog, measure the girth of your dog at its widest point around the chest. The chest strap sits where the sternum ends at the belly on most dogs. If you are in between sizes choose the next size up.
PACK SPECS
Medium
Weight of Empty Pack: 14.3 oz.
Large
Weight of Empty Pack: 15.9 oz.