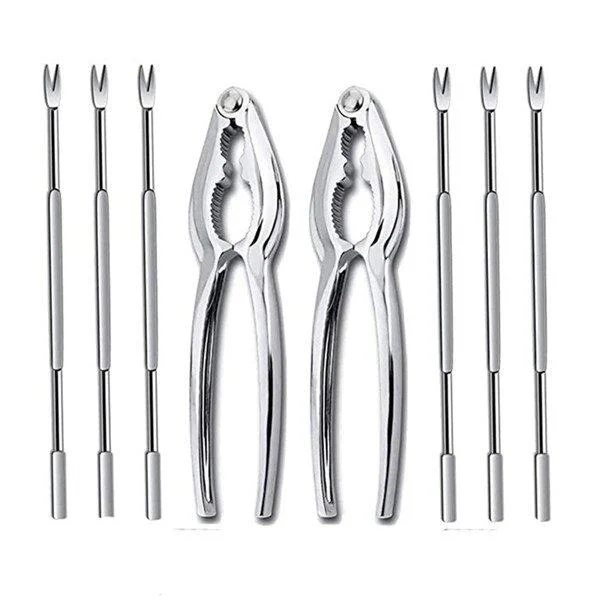 MADE OF DIE-CAST ZINC ALLOY AND STAINLESS STEEL: Our crackers are constructed of die-cast zinc alloy which has better hardness and is especially suitable for handling these hard-shelled foods. The stainless steel picks are also very strong and durable. They are all anti-corrosion and anti-rust, and will serve for a long time.
DESIGN FOR DIFFERENT SEAFOOD PARTS: The different serrated parts of the cracker are specially designed for different sizes and shapes of seafood. The slender crab legs can be processed in the smaller serrated part, and the larger claws can be placed on the large jagged part. The picks can get the meat from the crab legs or lobster tail easier and faster.
ENHANCED STURDINESS: Weighing up to 4.5 oz - the cracker is sturdy and durable. Even for some larger, harder seafood like the Boston Lobster and King Crab, it would be easy and safe to break and open them without any difficulty.
ESSENTIAL TOOLS FOR SEAFOOD: Release your hand and leave the crab, lobster, scallop, oysters and more to the crackers! Don't have to worry about the hard shell or not being able to get the whole meat out, using seafood tools allows you to enjoy seafood elegantly and simply.
WIDE APPLICATIONS: Our crackers are also suitable for cracking nuts, labour-saving and efficient. Besides, our crackers and picks are totally dishwasher safe, So don't worry about cleaning.
SPECIFICATIONS:
Material: zinc alloy

Size: 6 inch

Color: silver

Weight: cracker-70g, pick tools-13g
PACKAGE INCLUDES:
6 × pick tools

2 × crackers