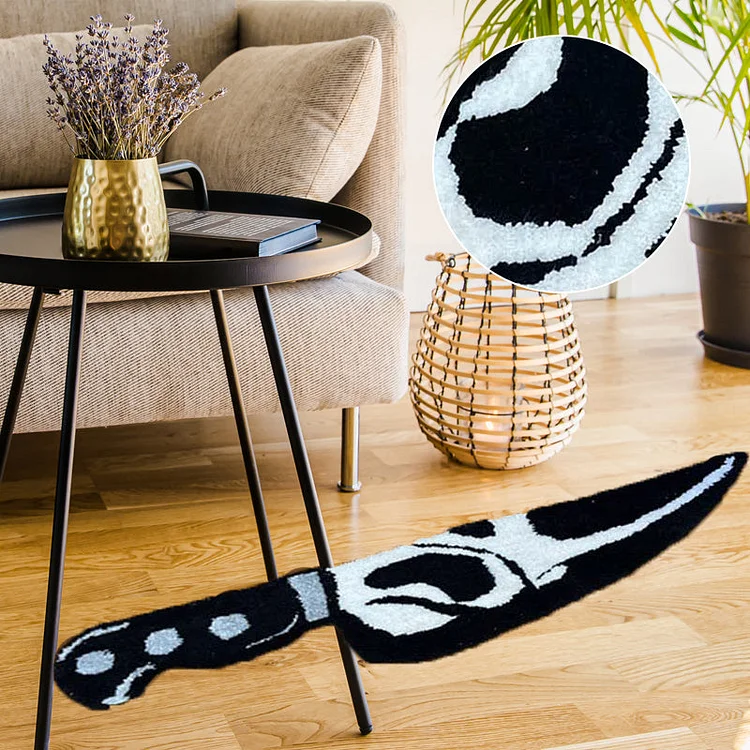 😮Surprisingly Skull Knife Carpet🔪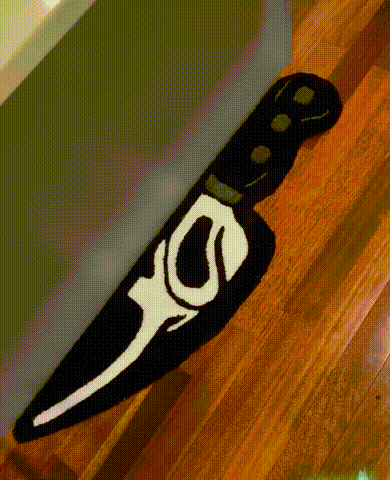 FEATURES:
UNIQUE SHAPE AND DESIGN: The Horror Knife Rug features a distinctive knife shape, making it a perfect addition to your Halloween decor or any horror-themed room. 
Movie-Inspired Aesthetics: This rug is a must-have for movie lovers and horror fans alike. Its design pays homage to legendary horror films, adding a touch of intrigue and excitement to any room. Whether for a game room, game room or a dedicated cinema corner, this rug sets the stage for an exciting atmosphere.
PREMIUM QUALITY AND COMFORT: Made from a thick and soft material, the horror movie knife carpet offers both visual appeal and soft comfort underfoot. The rug provides children with a soft surface to play on and adds warmth to bedrooms, bathrooms, hallways and living rooms.
Easy Maintenance and Versatility: The foldable design of the rug allows for easy storage and transportation, making it convenient to use in different environments. It is machine washable, which makes cleaning easier and ensures that it stays fresh and hygienic. Whether you use it as a rug, doormat or decorative piece, it will add a touch of horror-inspired charm to any room.
THOUGHTFUL AND UNIQUE GIFT: The Horror Movie Knife Rug makes an excellent gift choice for horror movie fans or anyone who appreciates unique and unconventional decorations. Its anti-static, anti-pilling and anti-fading properties ensure that it maintains its visual impact and quality over time. This rug makes a distinctive and memorable gift that is sure to impress and delight the recipients.
SPECIFICATIONS:
Material: cashmere
Style: as shown
Size: as shown
Weight: 110g/130g/150g/170g
PACKAGE:
1 * Surprisingly Skull Knife Carpet