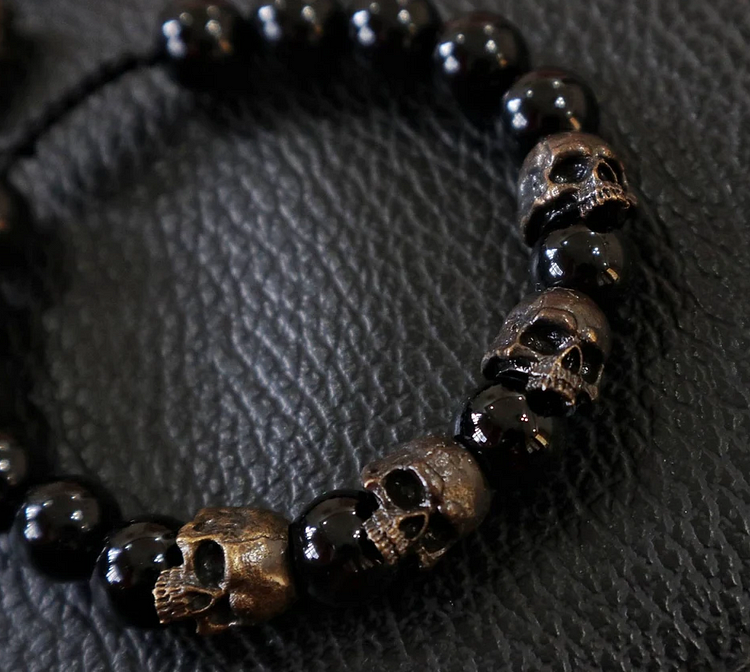 The Bracelet Chains With S925 silver skeletons and Natural solid black onyx, it was absolutely worth the money!!
Materials
- Half Skull Bead Sterling silver Black Oxide
- Signature Brass bead Brass Black oxide
- Knot Stoppers Brass Black oxide Finishing
- Natural solid black onyx 10mm
One of the most nightmarish and haunting symbols throughout history has been the human skull. It's sometimes frightening, sometimes a warning, and sometimes a friendly reminder that eventually death claims us all. This simple yet masterfully designed bracelet features skull inspired by pirates, treasure, and warnings on ancient maps. It's definitely a statement, a conversation piece, and is great for a variety of looks and styles.
Natural solid black onyx
A solid, pure black-colored onyx without any bands or layers is known as black onyx. This type of onyx is rarely found in nature,most black onyx found commercially are usually other forms of Chalcedony that have been dyed black.We use natural unprocessed black onyx what have a higher value than the treated type.
Onyx's meaning and symbolism 
Onyx is a grounding stone that helps provide stability and protection to its user. It is also known to drive motivation and forward movement in life. Onyx is there to energize you towards pursuing your dreams. Alternative healing practices use onyx to activate different chakra points including the root, third eye, and solar plexus chakras. Doing so may bring stability and focus. As one of the important stones of the mind, onyx helps to bring balance to your emotions, lower anxiety, and increase self-control.
Handmade :Every piece is handcrafted in Lunarpretty and made with Intention, Love, and Soul so that it can be felt by it's wearer and ultimately change our energy and lives in a positive way. Each with it's own story of insight and love, our pieces, like humans, are organic and asymmetrical in form.